Sharmans
Marketing strategy.
Brand strategy.
Customer experience strategy.
Digital strategy and marketing.
Strategic content marketing.

Evolving the brand and proposition to drive growth.
An established brand with a track record of more than 30 years delivering engineered, high-performance systems for commercial and industrial gutters, Sharmans came to WilsonCooke with direct and lofty expectations:
Help double business turnover – sustainably and profitably.
Increase sales, lock in more customers and enhance each customer's lifetime value.
Not one to back down from a challenge, we sprung into action.
Accepting the challenge.
It's one thing to set towering expectations but it is a whole other thing to bring the entire business on board for what it actually takes to secure these results.
We weren't the only ones that were going to be challenged. It was up to us to challenge Sharmans; what they thought they knew about their products, their customer base, their competition and their processes. Not a task for the faint-hearted. Bravery and trust were essential from both sides.
Never the type to back down, we all rolled our sleeves up, dug deep, looked far, asked difficult questions and shared difficult truths.
After the uncomfortable process of poking, prodding and questioning, we uncovered serious insights that enabled us to come up with solutions and a road map to success. Amongst the difficult conversations emerged a rock solid plan for brand positioning, messaging and value propositions, customer reach, acquisition, conversion and retention. We focused on which activities would make the greatest difference and listed them in order of priority.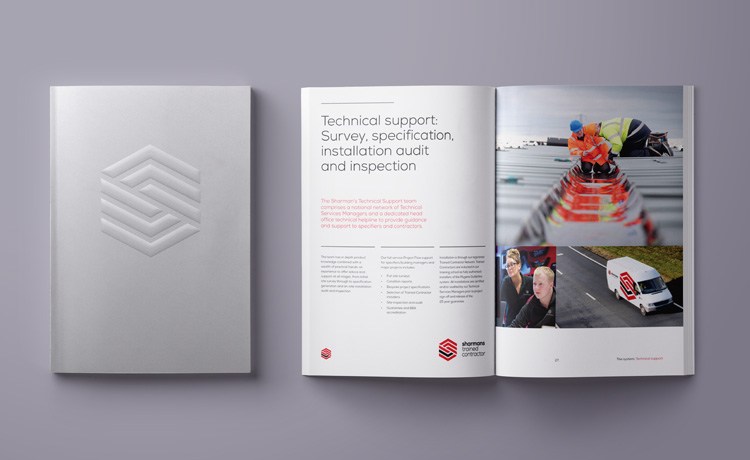 Delivering an ironclad solution.
To deliver on Sharmans' ambitious target of double-digit growth, we leveraged insights that helped us to identify new customer types and routes to market, as well as expanding the range of products, services, training and support on offer to their core contractor customers.
The first priority was to address brand strategy, positioning and messaging. Creating a new name and a new brand identity for both the company and the principal product, helped us to successfully reposition their brand and create a road map for all marketing communications, campaigns, customer experience, product development and operational improvements.
A critical part of our strategy was to maximise sales in the existing contractor channel and develop a new channel: the specification channel. Within this new channel came a specifier awareness programme (campaign driven), CPD training, manufacturing, live demos and tours. To boot, we skilfully delivered a stream of online and offline support tools and resources, including technical data sheets, samples, how to videos, system specifications and a tiered system of guarantees.
Rounding it all together were ongoing campaigns and initiatives such as a new, responsive website, system videos, lead generation, outreach and optimisation, as well as offline support such as new corporate literature. All designed to guarantee Sharmans was optimally positioned for growth.
In the end, the ambitious double digit growth was achieved.
Sharmans' monthly qualified leads have been boosted significantly with a substantial increase in new customer enquiries which are converting into sales.
On the work we had done, Sharmans commented: "Since the relaunch, we have opened new doors, new routes to market and a now have a much larger product offering. After this process, we know what the market wants, where the gaps and opportunities are and where Sharmans sits best to fulfil this. We have repositioned the business, increased brand visibility and customer reach and engagement, and enhanced customer experience, conversion and retention. Sharmans' product range has strategically extended to include roof coatings, repair and refurbishment systems, and customer journeys for both specifiers and contractors have been established."