Dudson
Marketing strategy.
Brand strategy.
Customer experience strategy.
Digital strategy and marketing.
Strategic content marketing.

Getting heads turned.
Established in 1800 and family operated for nine generations, Dudson knows a thing or two about creating and manufacturing strong performance tableware that is adored by the hospitality industry and chefs all over the world. Getting attention for their brand in a visually driven, online world was where they needed help. The goals were clear:
Establish Dudson as the supplier of choice through appropriate brand positioning
Reach more customers
Give customers a better experience
Achieve more sales
Turn heads
It was going to take grit, and our team were confident and eager to dive in.
The challenge.
So you want to be the brand of choice and reach more customers? Of course. Everyone does. But it takes a lot more than voicing ambitions to get the desired results. Dudson had aggressive growth plans to drive their business forward which included maximising brand and digital marketing.
We were on a mission to help Dudson stand out from the crowd, articulate what they really stand for through messages of value, get more customers, create better engagement and significantly boost their engagement and conversion. We needed to get under their skin.
Not only did we need to understand the market place, but we also had to understand the customer: their journey, their decision-making process – every little thing that makes them tick. Once we understood the customer, we took a critical look at their brand positioning to see how we could differentiate them in the market place.
With our assessment complete, it was time to take brave steps to enact a strategy that would turn heads and have customers running to Dudson.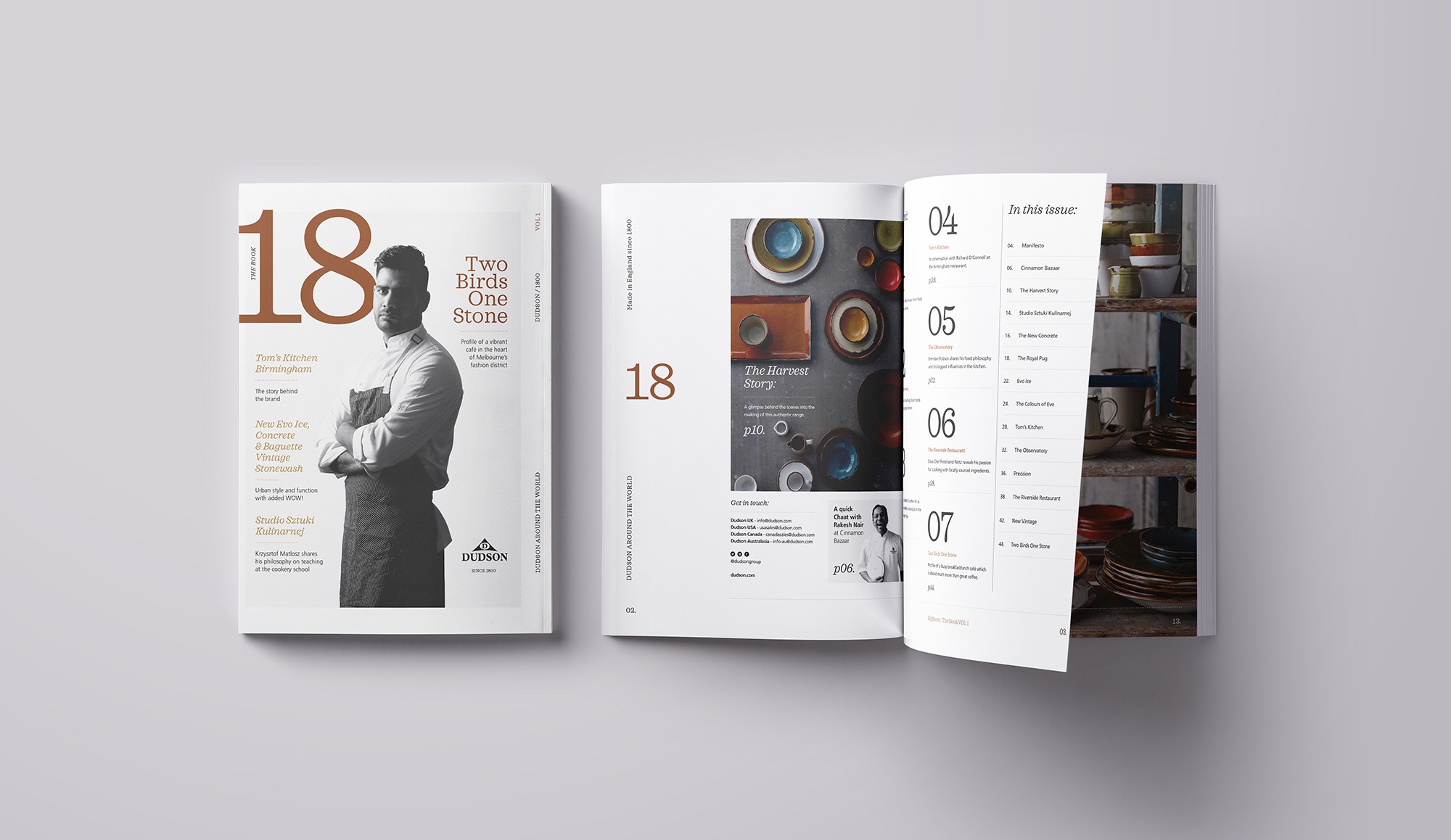 Executing a transformation.
Armed with a clear understanding, customer insights and the customer mindset, we decided to make a daring step change in Dudson's brand positioning and customer tools.
Image is everything, so we worked with some of the UK's leading, cutting-edge photographers to shift Dudson's visual brand into a shiny new light. From now on all customer communications were a work of art; using beautiful imagery and creative, editorial style story-telling that included full interviews with world-renowned chefs and industry influencers.
Controversially, we made the brave move to ditch all food images and instead focus on the real goodies - the sleek, sexy and functional tableware that inspires imagination and creativity. We put Dudson's products front and centre, leaving it to their customers to dream up what could be placed atop.
Once we had the brand on point, it was time to get out and reach our customers. To do this, we implemented a comprehensive campaign strategy, digital market strategy, fully loaded with strategic content marketing and good old digital advertising.
Dudson wanted to turn heads, reach and engage with more customers, convert more sales and establish themselves as the supplier of choice. A goal which was super exceeded. After repositioning their brand and implementing our digital strategy, Dudson was reaching major foodservice brands. Customer attention increased exponentially. We continued to deliver with strategic support, marketing communications delivery and customer experience initiatives.
Group Marketing Manager at Dudson, Alison Ratcliffe, said: "WilsonCooke is an excellent marketing agency. Notably, they take time to fully understand your business and the project requirements which means that from concept through to delivery, the experience is positive and enjoyable with great results! They're not just about what is best for them; they are truly interested in building working relationships and marketing strategies that help your business."
Credits.
Photography:

Loop & Jonathan Keenan

Print:

Wood Mitchell