Jigsaw – a digital transformation
Digital design & build.

Enhancing the customer experience through digital transformation for the largest housing association in the North.
In early 2018, two of the largest housing associations in the north west merged to create Jigsaw Housing Group. The group, dedicated to creating homes and building lives, plays a critical part in the wider community, helping to provide homes and giving their customers the best possible experience.
With people, communities and homes at the heart of the group, they needed an agency that could translate this into the digital space. The challenge was this:
Support the group through their new brand positioning post-merger
Design, develop and implement a self-service customer experience to support Jigsaw Housing Group and all of its subsidiaries with critical services and support.
It was a big undertaking, and the team at WilsonCooke were pumped to dive in.

Accepting the challenge
Merging two of the most significant housing associations in the north west is no easy feat. Considering the number of subsidiaries under the group, it was essential that brand positioning was clear and no person could feel left behind as the group took shape as one.
Far more than simply creating a digital solution for one type of user, Jigsaw Housing Group was made up of various departments and employees, and their online presence also needed to engage with tenants to offer them solutions to make life and their interactions with the group valuable and smooth.
Our first challenge was to support the new brand positioning of the group.
Following this, in an era where self-service is critical, the second phase was very much about creating a great customer experience which would support the customers of all the subsidiary housing associations with critical services and support.
Delivering a solution fit for everyone.
Tenant engagement through digital transformation is critical to Jigsaw Housing Group. Therefore, our first step was to run insight and focus groups to identify what new customers and existing customers want to do on the website, as well as what's important to them. We needed to ensure the customer's needs were met and good experiences created by ensuring complex transactions were built to be intuitive and straightforward.
To guarantee customers could access the things they needed easily and quickly we had to ensure page structure and content priority. We had to make sure the association could support its customers 24/7 by providing them with the content they want when they want it and how they want it (mobile, tablet or desktop).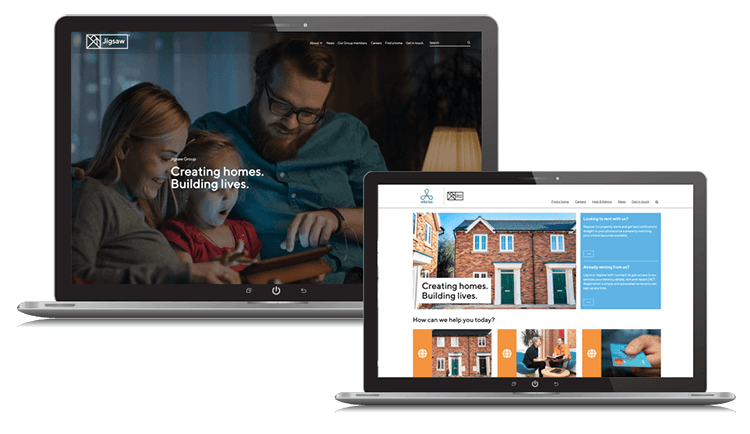 Many customers want content on the go - it was our job to ensure this could happen!
Beyond access, we had to ensure that the subsidiary websites linked off the group site were also providing critical services to existing customers; paying rent online, access to check and update their property data and report repairs.
To bring tenants into the creation of their platforms, we introduced a unique tenant engagement system where tenants are rewarded for participation in customer/focus groups, surveys, opinion polls and satisfaction surveys. The input from tenants then fed into our insights and helped us (and continues to help us) improve their service offering.
Supporting the community.
Investing in understanding your customers at a deep level allows organisations to make meaningful decisions on which areas to improve or develop.
The website also plays a role in the larger community as it has to support new customers by allowing them to find a home. Designing a customer journey that left prospects with a positive experience was critical.
Last but not least, the website had to support Jigsaw Housing Group as a key employer in the area, to find great people. Good people are essential to Jigsaw Housing Group; therefore recruitment and careers were critical features of the website.
A careers portal was built to ensure that all data captured via online applications would remain secure. This later integrated with the websites to allow the careers site to have editable content and support tools. This was all achieved with minimal disruption to their current process - which was vital, considering the challenge at hand.
So, what were the results?
Following a lot of hard work and collaboration by all involved, we created a single online entity for Jigsaw Housing Group, driven by a full content management system which allowed them to manage and control the content across their entire estate of websites, which consists of:
Beech Housing
Chorley Housing Association
Adactus Housing Association
Gedling Homes
New Charter Homes
Aksa Housing
As some aspects of the site's information were required to remain consistent, we also created a master controller which would enable the group to cascade information to the different sites in one instance, creating efficiency and control across communications from the business whilst still giving each organisation the flexibility to run and manage their own websites, and most importantly, ensuring the consistency of communication and information to their customers.
The site was seamlessly integrated into other various systems to allow customers to access their data, report repairs and pay rent.
We continue to work with the group to monitor how customers engage and how they use the site so that further improvements and developments can be made to ensure the best customer experience.
Services
Customer and key stakeholder insight
Design sprints
Task modelling
Information architecture and journey planning
Digital design
Customer experience
Website and mobile development