This is where you'll find our latest news and opinions on our industry and related topics.
The greatest interception ever
If you head to YouTube in search of the greatest NFL interception of all time there's countless videos covering all of the action from Dallas to Pittsburgh, Oakland to Chicago and everywhere else in between where football is more or less a religion in the United States.
But when it comes to the greatest interception that the NFL has ever seen, the action took place far away from any football field, was carried out by a car manufacturer and didn't feature a single player from any of the NFL's biggest sides.
The grandest stage of all for American Football is the Super Bowl and in wider sports it sits up their alongside the World Cup Final and the 100 metre sprint at the Olympics when it comes to viewing figures.
It's also synonymous with the big budget television advertisements that run during the breaks where countless major car brands spend millions of dollars on visibility during these commercial breaks. In 2015; Mercedes-Benz, Lexus, Nissan, Fiat, Toyota, and Kia spent around 60 million dollars combined on advertising their latest models during the Super Bowl.
A look at what Volvo actually did
Volvo didn't book any airtime for themselves during the big game and instead, they formulated a cunning plan to sweep in, intercept other car brands' advertising and steal the attention for themselves.
It's this daring move that's become known as 'The Greatest Interception Ever'.
Prior to the Super Bowl Volvo let people know they could win a brand new Volvo for someone they love by simply tweeting the name of the person they would like to give a car to all whilst including the hashtag #VolvoContest during any car advertisement featured in the Super Bowl breaks.
The aim for Volvo was to shift the viewer's focus from the car advertisements on the TV to their phones where they would be tweeting about Volvo instead.
So did it work?
To say it worked is probably a bit of an understatement as the social conversation shifted completely where there was up to 2,000 #VolvoContest-tweets sent per minute whilst the other car manufacturers' advertisements aired.
In total, there was over 55,000 #VolvoContest tweets sent. Other car brands all still got their 30-second spots in the limelight, which came at a cost but Volvo was on the minds of viewers for entire game. Their hashtag even became a worldwide trending topic on Twitter.
Volvo became the only car company to trend both nationally and globally during the Super Bowl. Their XC60 model also had a 70% sales growth in the month following the Super Bowl.
They also achieved 200 million dollars worth of social media impressions with their clever campaign, which also seen Volvo's marketing agency Grey, who assisted with the campaign, win two awards at Cannes for the ingenious marketing stunt.
What can we learn from this?
Even though it's now a few years since this campaign was carried out, the way that Volvo leveraged Twitter to allow consumers to nominate others to win instead of themselves, was a brilliant use of social media.
The results that the campaign delivered from a social perspective speaks for itself.
There's also a lot to learn from Volvo's Interception but we believe that one of the key takeaways is to always keep an eye on what your competitors are doing.
This doesn't mean you have to match them in terms of monetary value for advertisement space as this campaign from Volvo has proved that point like never before.
By taking a deeper, more thought led process to see if there's opportunities you could jump on the back off could truly pay off beyond belief with the right creativity and opportunity.
Take a look at how Volvo did it below:
Following the expansion of its portfolio, integrated marketing agency Wilson Cooke has created three new positions to help coordinate key service deliveries across the business.
Group Account Director, Kathryn Brown, formerly of BJL and McCann Manchester has been brought on board to help develop existing client relationships.
Lee Lambourne, previously of Western Union International Bank, will lead on new business opportunities as Business Development Director.
Digital Outreach Executive, Cain Wilkes, has joined Wilson Cooke to help deliver a brand new social media and outreach offering for both existing and new clients.
Commenting on the new additions, Wilson Cooke Managing Director Mark Law commented: "This is a really exciting time for Wilson Cooke as we look to complement our already amazing team with a number of key hires.
Kathryn, Lee and Cain bring a raft of experience in their respective fields and will be key drivers to the next phase of our growth as a results-driven integrated agency and will help deliver huge value to our amazing clients."
It's just over a month since the new Google search algorithm update was rolled out, and here is what we know about the update and some points you might want to consider taking if you were impacted.
Google is calling this new update "a broad, global, core update" but based on much of the analysis, there seems to be a focus on health, medical and money sites. Many sites besides those were also impacted by the update.
Google is telling us that there is nothing you can do to fix your site, so you should just focus on making a great experience, offer better content and a more useful website.
What we know from Google
Google has said that this update was a, "broad core algorithm update" and that it does these updates "several times per year."
Google references previous core updates in its latest advice tips, explaining that there's no fix for pages that may perform less well, other than to remain focused on building great content.
Over time, it may be that your content may rise relative to other pages. Google have also said, "as with any update, some sites may note drops or gains. There's nothing wrong with pages that may now perform less well. Instead, it's that changes to our systems Google Search Liaison."
Google Search Liaison Danny Sullivan also confirmed that this is a "global" rollout and impacts all Google search results, no matter what language or region.
Who was impacted by this update
As already explained, Google said this is a "global" update, which implies every niche and every type of site could have been impacted.
But after some digging around, there seems to have been a big focus on medical and health niches, as well as money lifestyle types of sites.
There's also been some impact noticed in the entertainment and gaming niches.
What can you do moving forward?
This is the biggest question for those who were negatively impacted by the latest update.
Google have said there's nothing to be done and there is no fix – which isn't too helpful.
They have however suggested working on improving your website, with better content and a better overall user experience, with the hope that the next update may lead to your site ranking better than ever before.
Why is page speed important? It's simple – customer reach.
As marketeers we look at all the channels available to us to see how we can be maximising reaching the right customers as well as building up brand awareness.
When it comes to Google there are critical technical considerations that will help us reaching customers. You've probably seen posts and articles around page speed and how this impacts both usability and ranking.
You can actually break this down into three facets, each is important as the other but it's important to understand the implications of each one.
By breaking these down you can understand the impacts, which are not just around ranking across mobile and desktop.
Throughout the piece we've referenced Google but other search engines are available but obviously, the majority of search traffic runs through the Google engine.
When referring to ranking metrics, these are the changes and signals that Google uses to determine what score it will assign for a specific action.
Google's ranking algorithm is a complex beast considering 1000's of elements when deciding where you will appear for a specific keyword or phrase, in this article we focus in on page speed but these are only a small part of the overall mix, with domain authority, customer interaction, citations and technical SEO also playing a key part.
We break them down into the following areas:
Perceived
This refers to the user experience side of things, as it straddles both search ranking implications and user experience is arguably the most important to consider.
Perceived is how the page loads and which elements load in first – progressive page load. This point is really important as you can have quite a weighty page with lots of rich content but as long as when a customer first hits your page on mobile or desktop they see essential content above the fold (in their field of vision) load quickly or ideally is perceived as instant.
Google are calling this the "First Contentful Paint (FCP)" and are actively measuring when a user sees a visual response from the page.
There are a various stats around dropouts, bounce and exit rates, especially on mobile due to waiting for something to appear and not just seeing a white screen while content is being pulled together by the web application.
So how do we address this?
We look at which elements of a web page are loaded first, is it the formatting of the page? Or is it the colours, blocks or styles holding core content like headings and images such as logos or hero images?
The hierarchy of what is loaded in first should be considered as this can then be implemented post build if required. The rest of the content can load away in the background and the customer is unaware as from their perception the page has loaded instantly.
This will certainly help with customer experience in general and the perceived instant load will help improve drop out which is a core ranking metric.
Google's core objective is to deliver content that you want if Google sees a high bounce rate it will be considered that either the customer experience is poor or the content is not relevant – both of these will massively impact your visibility on both mobile and desktop.
Scored
This is the actual score that Google applies to your webpage, this was first introduced several years ago and the scoring metrics are always in flux as Google refines this on an ongoing basis.
Test your own page right now and find out your own score: https://developers.google.com/speed/pagespeed/insights/
This is Google's barometer to determine how well optimised your page is to ensure your customers have the best experience possible – this has very little do do with the overall page weight and size in Megabytes of the page, it's more about what you have done to mitigate this.
There is a bit of a dilemma here as the scoring metrics are here to help rather than hinder in that customer experience and page speed are opposing forces.
For the ultimate page speed scores the less rich media and design the better – a raw page of content would be the best for page score and weight but the customer's experience would be anodyne.
So these scores help focus what you need to optimise – Google actually road maps what you should do to optimise your page, some of this work is very technical but get it right and your rankings will benefit as part of your overall search strategy.
Google gives you scores for both desktop and mobile so you can monitor this respectively. Depending on what you read this can impact your ability to rank by up to 10% for a good vs. bad score.
It's important you do not ignore any recommendations given, it's also not about reaching a specific score as the architecture of your build will impact what can be achieved and it's more about being aware of this and doing what you can to influence this score.
Weight
This refers to the actual physical size of your page and the issue with holding this as a core metric is that for good customer experience a customer will expect a rich experience that more than likely includes video, movement and intuitive menus – most of these come with an overhead of physically having to be loaded in.
As long as you consider perceived and scored you will mitigate the weight. Using video as an example – don't load the whole thing into the page then play, use a streaming service like YouTube and embed your video so that way as soon as the customer downloads enough of a buffer the video will play, it comes back to that experience perceived load gives users.
While we don't want pages to be bloated we want to ensure a rich experience for your customers. Customers that are engaged are much more likely to spend longer on your site, they'll become returning visitors and you'll have a lower bounce rates – all of which are positive ranking metrics.
Also considering what is right for which platform – mobile, desktop and tablet and then only loading in the element which suits the specific environment.
Summary
Ultimately it's all about customer reach. By playing the long game you ensure customer reach and mitigate against Google penalties.
There is no doubting that page speed is a core ranking factor but if you consider the based on perceived speed, scored speed and then overall page weight in that order and ensure you optimise the experience without compromising this.
By just working on the page weight is a mistake that many people fall into, you will be best placed to take advantage of the benefits awarded by Google's algorithm tweaks both now and in the future.
Our recommendations are don't try to spoof Google by using Grey/Blackhat search tackSEO, at some point your rankings will be impacted by this, it's a risk – consider organic search as a long game, understand why Google is leveraging it's position to ensure your content reaches the right customers by being visible and you give them best on page experience possible.
Keep in mind Google's own objectives, to deliver the best results possible – keeping the masses using their search product, it's there in the mission statement: "To organize the world's information and make it universally accessible and useful."
Google don't want to send visitors to websites which don't deliver good customer experience, part of that experience is page speed, you will be rewarded with better organic brand visibility.
Delighted to announce our ISO 27001 certification for Information Security Management, following an extensive external assessment.
The certificate covers everything from internal security processes to handling client and third party data.
It was issued in recognition of our high standards of information security management.
So to celebrate, we all went for a day of burgers, cocktail making and drinks in the sun – it's not a random picture ☝️– just a team reward for a job well done.
Post GDPR, Facebook's data scandal and whatever the next big issue is – information security is on everyone's lips.
And while we've prided ourselves on how we handle sensitive information for years, this certification is further validation.
The independent audits were conducted by Manchester based Approachable Certification, who visited us several times and assessed our processes, policies and staff behaviours.
We were issued valid accreditation until 2021, with regular interim audits to ensure standards are maintained.
Reassurance and credibility
Creative director Lee Whittingham explains the importance of gaining the ISO 27001 certification:
'This wasn't about just doing something to get a logo we could put on our website and external comms.
'For over 20 years, from filing cabinets to digital encryptions, we've taken handling, storing and processing information extremely seriously.
'And while it's in the news more, it's not a new thing to us.
'But as businesses become more aware of the importance of data security, we decided to be more visible about the high standards we hold ourselves to.
'Third party validation from a credible body is a reassuring rubber stamp on what we do for our clients and colleagues.
'And for any future new starters or clients we work with, it's a clear indication of our credibility and standards.'
To talk about the importance of information security and its importance for your organisation, please contact us.
This infographic is for Star Wars day – but the PPC wisdom it contains has a much longer lifespan.
Extracted from the brain of our PPC specialist Andrew, like death star plans from a droid – feel free to use.
Image and transcript below – use the force on your own campaigns and get in touch if you want more.

How to PPC like a Jedi
A trilogy of tips
Aim for accurate attribution
A 'last click' model to assign attribution is an old-school way of analysing user conversion journeys.
Use Google Analytics insights to help build attribution models for different accounts taking in multiple customer touch-points.
Deploy Google Tag Manager
GTM's user-friendly simplicity means you usually don't need web developers to implement tracking.
It's great for tracking soft conversions, or lead gen – don't just assume a campaign is failing, it could be generating 100s of phone calls.
Consider Bing AdWords
Depending which source you believe, you may miss between 8-20% of search volume by not advertising on Bing.
It's likely nearer the lower end – but Bing ads face far less competition, at a much lower cost-per-click.
Yesterday's 'Everyone's talking about voice' event at the Co-op Federation in Manchester addressed one accepted truth:
Voice search will account for 50 percent of all online enquiries by 2020.
The evening was organised and hosted by Apadmi, the Manchester based app development agency.
They introduced experts from varied fields to discuss the importance and impact of voice.
There were a lot of interesting points, inspirational examples and compelling arguments – our favourite bits are below.
Albert Creixell – Partnerships head, Amazon Alexa
Albert's a senior member of the team developing Amazon's voice assistant (and the two sides of its 'brain' – utility and entertainment).
He detailed how developers are already starting to leverage the powers of Alexa's API via the Alexa Skills Kit.
And emphasised the importance of voice search experiences being rich and social, as over 80 percent of voice assistants are used by more than one person.
Best quote: 'Utterances are the new hashtags.'
Marcus Duffy – Head of design, Apadmi
Drawing on years of experience as an app designer, Marcus stated the clear conclusion that voice design is UX design.
It's fertile ground for problem solvers who ask questions that put the user first and understand the importance of writing for the ear, not the screen.
He also covered when and how to use prompts and the best time to user test – in detail, despite a relatively short presentation.
Best quote: 'Choose something the user was going to do anyway – and make it easier for them.'
Professor Trevor Cox – Acoustic engineer, Salford University
Professor Cox's presentation had less of a commercial angle than the others.
Instead, he focussed on the voice itself and how it can communicate anything from mood and appearance to class and region.
He drew an interesting line from how humans have used their voices to teach and learn for centuries, from conversations between primitive peoples through to talking to computers.
Best quote: 'It is common now for people to say I love you to their smart speakers.'
Emma-Victoria Houlton – Alexa flash briefing producer, The art of Podcast
Having transitioned from commercial radio stations to podcast production, Emma detailed her recent experiences working with Huffpost.
And she's not the only one to recognise the potential of daily flash briefings.
The BBC World Service, Buzzfeed and the Met Office are all using these short daily touchpoints to reach their audiences via this interesting new platform.
Best quote: 'Over 70 percent of smart speaker users are listening to more audio content than they were before they bought one.'
Mukul Devichand – Executive editor of voice, BBC
Mukul talked about how his team at the beeb is exploring new ways to tell stories using voice AI, using a recent example created for CBeebies.
He was clear about the current limitations of a purely conversational medium but also just as certain about its potential.
And he was able to detail the shift towards it from a storytelling point-of-view, as well as a purely commercial one.
Best quote: 'It's in our charter to innovate and find new connections with audiences.'
An AI-first world
While the evening's speakers had different backgrounds, experiences and goals – they all agreed one thing.
AI and voice search is here to stay and will only grow.
One of the most compelling quotes highlighted was from someone not present – Google CEO Sundar Pichai:
'We are now witnessing a new shift in computing: the move from a mobile-first to an AI-first world.'
And if Google says it's happening, it probably is…
If you want to talk more about the potential of voice search, get in touch.
Interesting news today that JD Wetherspoon is quitting Twitter, Facebook and Instagram with immediate effect.
Spoons chairman Tim Martin said the decision had been influenced by concerns regarding 'misuse of personal data and the addictive nature of social media'.
There was also dismay expressed at the trolling of politicians.
As well as compelling employee engagement stats detailing that 90-odd percent of pub managers believed that social media didn't help their business.
With many individual pubs running their own accounts (often with very little success), the ROI clearly wasn't there.
A good day to quit social?
So quitting social makes sense in terms of the positives – but what about what Wetherspoons loses?
A loyal following (over 100K on FB and 44K on Twitter)?
Engaged audiences?
Promotional opportunities?
Customer interaction?
Spoiler alert: Wetherspoons isn't giving up any of those.
A clue is buried away at the end of the official statement after lines on how we spend too much time on social media and how it doesn't benefit their business.
'We will also be maintaining our website and the Wetherspoon app and encourage customers to get in touch with us via our website or by speaking with the manager at their local pub.'
The famous Wetherspoons app.
Over 1million downloads on Android alone and six figures worth of positive reviews on the App Store.
Free-to-download, featured everywhere from The Times to LadBible and trialled in over 1000 outlets for months.
This real-time, big data has allowed Wetherspoons to tailor their customer service offerings much more accurately than running hundreds of failing Twitter feeds.
And if the audience seems a little smaller in terms of numbers, it's certainly more engaged in terms of buy-in.
If someone takes the time to download and use the app, they're probably repeat/regular customers.
And Wetherspoons has probably muted a lot of negativity by shutting down social.
Think about it – were people more likely to tweet about flat beer or cold chips, than to Instagram their pint and a curry on Thursday night?
And the best way to promote the app and get more people to download?
Tried and tested FOMO.
Fear Of Missing Out – while you're queueing and struggling to be seen at the bar, the table next to you has each round brought to them on a tray? And food as well? How did they manage that?
Envy was a powerful motivator for millennia before social media was invented.
Reach the right people, not the most.
App downloads, email segmentation, Facebook groups, followed hashtags – however you choose to reach them online, an interested audience is more important than a big one.
Wetherspoons knows that as well as any Minecraft playing YouTuber.
For decades their pubs haven't tried to be everything to everyone – they know their intended customers best.
Today's news shows they know best how to reach them digitally too.
Mark's video on GDPR for data processors – watch to check you've not missed anything obvious before the legislation comes into effect on May 25th.
[VIDEO TRANSCRIPT]
Q: What is a 'data processor' in terms of GDPR – how does it differ from a 'data controller'? 
Mark answer: A processor is any person, agency or company that does something with personal data for a data controller – another party.
The controller is the 'data owner' – they instruct the processor to do something with that data.
Wilson Cooke, as a marketing agency, acts both as a processor – for our clients' data (that we hold or do something with for them) and as a controller – for our employees' data (payroll and contact information).
Q: What is MY responsibility, as a data processor? 
M: The starting point is to understand the legislation and to seek relevant legal guidance and advice, which is something that we've done.
We've worked on a GDPR project to understand our responsibilities as a data processor.
The other key aspect is to take advice and direction from the data controller – who ultimately determines what they want you to do with their data as a processor – and act on that.
Having clarity as far as agreements and contracts in place that determine this is really important also.
Q: What are the first steps I need to take – in my business AND with data controllers?
M: It starts with a data audit.
Understanding and reviewing the data that you hold in the systems that you manage and maintain, what that data is, how personal it is – and drawing up an action plan for how you need to approach that for each of the data controllers.
Staff training is also really important.
That's workshops, policies, processes so staff understand their responsibilities and how they can ultimately impact and affect this – and how GDPR is going to affect the work they do on a day-to-day basis.
From a data controller perspective, what you're also then able to draw up are policies & processes that help to ensure that what they're doing is lawful – some of which refers to 'lawful consent' – a vital starting point when it comes to GDPR.
Q: How do I future-proof my business and operations for GDPR?
M: Future-proofing comes from placing privacy and security of personal data at the heart of everything you do.
For example, running privacy assessments and impact assessments at the start  of projects, to make sure you identify any needs around personal data.
What you're able to then do is plan and prepare for that right at the beginning – the worst thing you can do is try to retrospectively 'fit in' something to do with security or privacy around personal data when you get to the end.
So the more you can hit that at the beginning and start to implement 'privacy by design' via training and workshops within the relevant areas of your business, that will be a big step towards future-proofing anything you do.
Q: How do I reassure my clients about my understanding of GDPR?
M: Reassurance comes from a consistent message regarding the importance of this legislation and how much impact it can have on any business.
It's quite dangerous for companies to feel as though it's not important or relevant to them – ultimately it's relevant to everyone and the whole aspect of a business.
We've been really consistent with our approach to up-skill our staff.
This is fed by our commitment to become ISO 27001 Certified and ensure that – as a company – we're taking GDPR as seriously as we should and that this message is translated to our clients.
Thanks Mark!
For more in-depth detail on GDPR, see the Information Commissioner's Office.
To talk about how your business handles personal data, please contact us.
Yesterday I was lucky enough to attend the #PressForProgress event for International Women's Day at Manchester's Castlefield Rooms – the city having rebranded for the day as 'WoManchester'.
As the World Economic Forum recently stated that 'gender parity is over 200 years away' – the importance of progress and women supporting women is as high as ever.
This event was organised by Page Group and chaired by Claire-Marie Boggiano of Lurig Ltd, a business change and people development specialist, who introduced each guest speaker.
The roster was impressive – and pretty long – so I've summed up below what each person covered and my favourite take-away points.
Collette King – Equity Housing Group
Collette talked about fostering 'cultures of trust and flexibility' to make jobs more accessible and also about building confidence and conviction in women, to see off workplace issues like 'imposter syndrome'.
Best quote: 'People should always feel as though they can bring their whole selves to work.'
Jenny Davies – M24Seven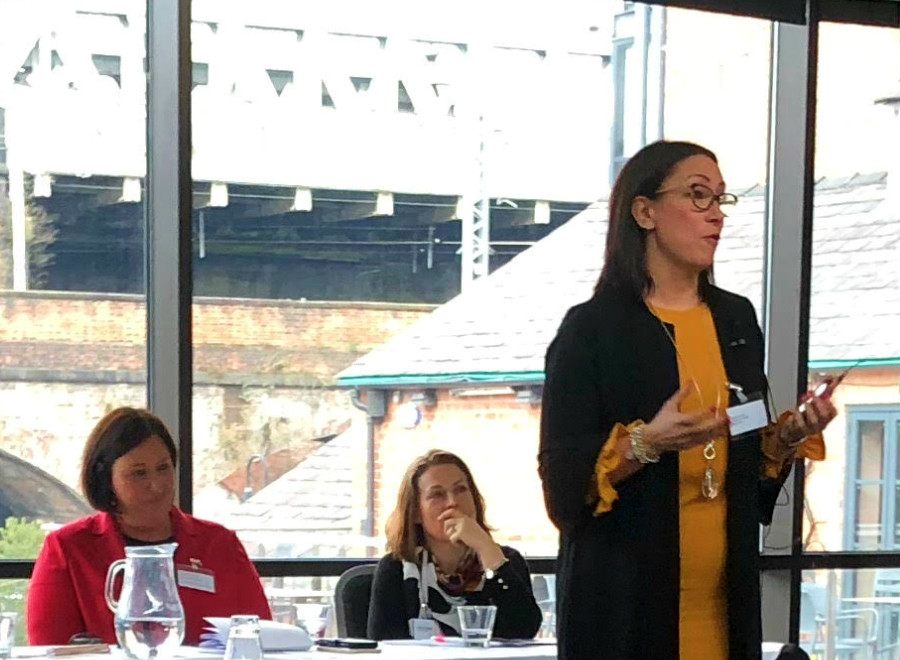 Understanding that being out of your comfort zone isn't always a bad thing – especially for women in senior leadership positions – is something Jenny covered.
By becoming more comfortable with the fact that certain people around her know more than she does in specific areas, she has become better able to focus on her responsibilities as an MD.
Best quote: 'It's ok to be comfortable with being uncomfortable.'
Stuart Lunn – Manchester Airport Group
The only male speaker, Stuart told an illuminating tale about his wife – who he also works alongside in a similar role.
Despite her being every bit as capable (if not more so) than him – when they lived in Dubai for a period, he got a job that paid 35 percent more than her's did for similar responsibilities.
Best quote: 'Those of you with children – would you pay your sons 35 percent more pocket money than your daughters?'
Lara Hornby – BAE Systems
Lara asserted that confidence is a large part of success in business – and often women need support in accessing this.
She highlighted how the Emotion-Truth-Choice (ETC) process has helped her overcome challenges in her professional life.
Best quote: 'Women are unique in their possession of the crack-on gene.'
Sheri Hughes – PageGroup
A senior member of PageGroup (our hosts), Sheri detailed how their organisational culture has enabled her to progress from grass roots level to director status.
Best quote: 'The right culture will allow women to progress and succeed.'
Beyond 'WoManchester'
What an inspiring afternoon – thanks to everyone who spoke so honestly and eloquently and to the other women (and men) who attended and listened.
But as valuable as I – and others – found this event, the focus on the importance of gender equality shouldn't only happen on International Women's Day.
The fact that such events have to exist show how far there is still to go, even in a developed country, let alone around the world.
In our business at the very least, I think the way we support and promote gender parity is crucial in adding our voice to the conversation – 200 years is just not good enough.