At WilsonCooke, we are always looking to develop our marketing strategies – and that includes keeping up with the latest market trends. This is why it comes as no surprise that we look forward to Hootsuite's yearly social trends report. We recently got our reading glasses on and wanted to share with you the most interesting social trends that are due to take the marketing world by storm in 2022.
The creative side of social ads
In Hootsuite's yearly trend report, they found that Facebook (62%) and Instagram (49%) were ranked as the most effective platforms, which comes as no surprise as they're some of our favourites to use too. However, how they're consumed is expected to dramatically change next year. 
It seems that consumers are 'wising up' to social ads – which is where the most creative campaigns will stand out. This showcases the importance of building a strong campaign strategy, from creative right through to goals and execution to stand out from the crowd.
Using social for 'out of the ordinary' reasons
In the same report, it seems that social will also be used beyond traditional marketing reasons. 20% of organizations said that they wanted to use social to "improve the employee experience" (up from 4% last year) and 20% want to look to use social for "brand protection and risk mitigation" (up from 5% in 2020).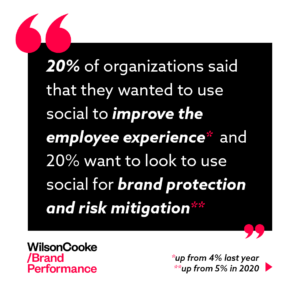 Understand your customers
Seems simple, right? According to a Sprout Social report, only 55% of marketers use social data to better understand their target audience. This includes building customer personas, researching where your customers are, and understanding your customers' needs and wants – what do they want to get from your social media content and how does this deliver value?
Did you know that demand for customer service via social media has been increasing over the years? In a Nielsen survey commissioned by Facebook, 64% of people said they now prefer to message rather than call a business. This can only exist if your business is present across all relevant channels that your audience exists within.
The rise of social commerce
Finally, we can expect a rise in commerce sales via social media. Although this has been on the rise over the past few years (and even more accelerated due to COVID-19), 2022 is the year to invest in social commerce if you haven't already.
In fact, 70% of consumers search for products they need to buy on Instagram and Facebook. Remember what we said about ensuring you understand your customers and their needs?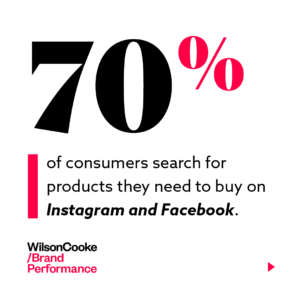 If you find that your customer base is of the younger generation, social commerce could be game-changing for your marketing strategy. For example, 53.2% of global internet users aged 16-24 said they chose social networks as their primary source of information when researching brands.
At WilsonCooke, we have in-house expertise encompassing all aspects of brand performance marketing including brand marketing & strategy, paid search management, organic search optimization, and conversion rate optimization.
If you're looking to grow your business in 2022, get in touch with us today.