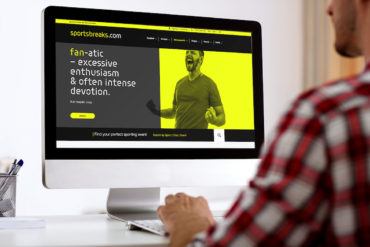 Manchester, UK: WilsonCooke today announced a new partnership with Clarity, the business travel experts. This partnership will offer sports fans access to some of the sporting world's most exclusive events, along with unique travel experiences. Football, Motorsport, Rugby Union & Cricket Breaks around the globe will form part of an offering that sportsbreaks.com will be delivering to a global audience.
Clarity recently hired many of the former Thomas Cook Sports travel management team to establish a new Clarity Sports division, headed by Rob Slawson, previously Head of the Cook division. The newly formed Clarity Sports division and WilsonCooke have collaborated on the new venture, sportsbreaks.com to use their many years of experience of putting together unique travel packages for sports fans.
"This is an exciting project for us as we have the opportunity to partner up with Clarity on sportsbreaks.com, and support across Branding, System Development and Performance Marketing, which is what we do best," says Mark Law, Managing Director at WilsonCooke.
"We worked with Thomas Cook Sport for over 14 years, underpinning their system development back in 2005, and supporting them up until this year. Over the last four years, we have also looked after all of their digital marketing and worked alongside them in securing year on year growth throughout that period. To launch this new partnership with Clarity Sports is very fitting as it gives us the chance to put all of our hard work and past experience towards something new and exciting."
"The fact that the Clarity team entrusted us to partner with them on this new venture, demonstrates the strength of the relationships we already have with the Clarity Sports division team."
WilsonCooke were tasked with developing and implementing a new website, ready for the launch of sportsbreaks.com in a matter of weeks.
"We're the only company that would have been able to turn this around in time, which shows the strength and knowledge we have in this market. As well as system development, we have also worked on the branding and brand positioning of sportsbreaks.com ahead of the launch. We're incredibly proud to be in partnership with Clarity Sports on this new venture, and look forward to supporting them for many years to come."
Rob Slawson, Director of Sports Travel at Clarity – "In a matter of weeks, we've created a new business division within the wider Clarity business and it was essential we partnered with trusted specialists on specific parts of the project. WilsonCooke were the obvious choice for us after years of quality collaboration with our team. They've helped us to really accelerate our goals on the sportsbreaks.com project.