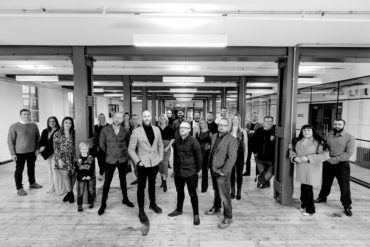 We are excited to announce that our team will be moving to a new location in central Manchester next month.
The new studio is part of a historic mill just off Oxford Rd in the city centre, putting us right at the cross-section between the town's business district and its hub of universities. We're excited about the hustle and bustle happening outside and the novelty of all of the great restaurants within an easy walking distance.
When we first moved into our last office, there was plenty of room. When we leave, there will be plenty more of us. We have to admit the space was getting tight! The new studio offers more square footage and will allow us to rethink not only our layout but how we work.
The environment we create and the happiness of the team is really important to us which is why we have more of an open plan space with character, all on 1 floor to encourage creativity, teamwork and to further open the channels of communication.
It will also open us up to a whole new talent pool to fill the various roles we have planned over the coming 3 years as part of our growth strategy. We'll also be a stone's throw from our existing city centre clients.
It has been an exciting five years for WilsonCooke, and we look at this new location as the start of another chapter in our history. Wall painting, decorating and kitchen fitting should cease on the 1st of Feb with the full team aiming to be within Manchester at this time.