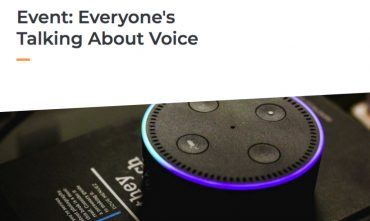 Yesterday's 'Everyone's talking about voice' event at the Co-op Federation in Manchester addressed one accepted truth:
Voice search will account for 50 percent of all online enquiries by 2020.
The evening was organised and hosted by Apadmi, the Manchester based app development agency.
They introduced experts from varied fields to discuss the importance and impact of voice.
There were a lot of interesting points, inspirational examples and compelling arguments – our favourite bits are below.
Albert Creixell – Partnerships head, Amazon Alexa
Albert's a senior member of the team developing Amazon's voice assistant (and the two sides of its 'brain' – utility and entertainment).
He detailed how developers are already starting to leverage the powers of Alexa's API via the Alexa Skills Kit.
And emphasised the importance of voice search experiences being rich and social, as over 80 percent of voice assistants are used by more than one person.
Best quote: 'Utterances are the new hashtags.'
Marcus Duffy – Head of design, Apadmi
Drawing on years of experience as an app designer, Marcus stated the clear conclusion that voice design is UX design.
It's fertile ground for problem solvers who ask questions that put the user first and understand the importance of writing for the ear, not the screen.
He also covered when and how to use prompts and the best time to user test – in detail, despite a relatively short presentation.
Best quote: 'Choose something the user was going to do anyway – and make it easier for them.'
Professor Trevor Cox – Acoustic engineer, Salford University
Professor Cox's presentation had less of a commercial angle than the others.
Instead, he focussed on the voice itself and how it can communicate anything from mood and appearance to class and region.
He drew an interesting line from how humans have used their voices to teach and learn for centuries, from conversations between primitive peoples through to talking to computers.
Best quote: 'It is common now for people to say I love you to their smart speakers.'
Emma-Victoria Houlton – Alexa flash briefing producer, The art of Podcast
Having transitioned from commercial radio stations to podcast production, Emma detailed her recent experiences working with Huffpost.
And she's not the only one to recognise the potential of daily flash briefings.
The BBC World Service, Buzzfeed and the Met Office are all using these short daily touchpoints to reach their audiences via this interesting new platform.
Best quote: 'Over 70 percent of smart speaker users are listening to more audio content than they were before they bought one.'
Mukul Devichand – Executive editor of voice, BBC
Mukul talked about how his team at the beeb is exploring new ways to tell stories using voice AI, using a recent example created for CBeebies.
He was clear about the current limitations of a purely conversational medium but also just as certain about its potential.
And he was able to detail the shift towards it from a storytelling point-of-view, as well as a purely commercial one.
Best quote: 'It's in our charter to innovate and find new connections with audiences.'
An AI-first world
While the evening's speakers had different backgrounds, experiences and goals – they all agreed one thing.
AI and voice search is here to stay and will only grow.
One of the most compelling quotes highlighted was from someone not present – Google CEO Sundar Pichai:
'We are now witnessing a new shift in computing: the move from a mobile-first to an AI-first world.'
And if Google says it's happening, it probably is…
If you want to talk more about the potential of voice search, get in touch.