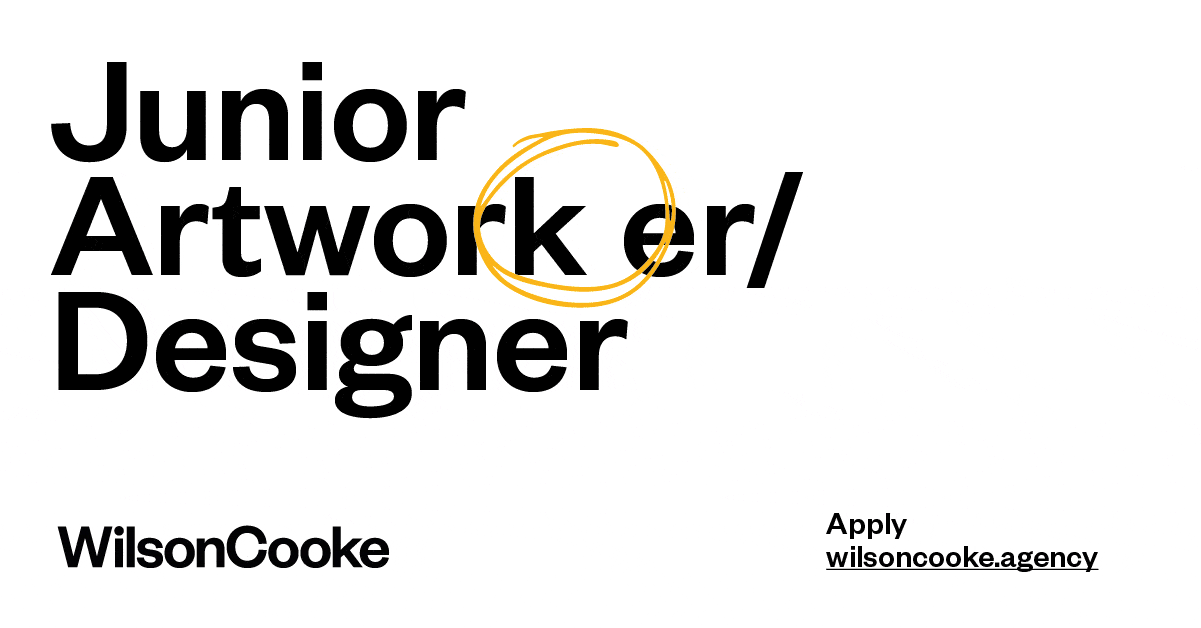 Department: Brand
Location: Studio – Manchester/M1 + flexible / home working
Salary: Salary dependent on experience
Contract type: Full time / Permanent
To apply please send your CV and a cover letter to idliketowork@wilsoncooke.agency
Who do we need?
WilsonCooke is looking for a talented Creative Artworker to bring energy, creativity and consistency to the business, and to our expanding client base. We have an exciting opening for a creative artworker within our new Manchester city centre studio. Working as part of a small and friendly team, your role will be to provide skilled and technically accurate input and support on all aspects of design and artwork production. This role would suit a team-oriented, motivated individual with excellent communication skills, strong attention to detail and experience gained in a similar environment. This will be a fast-moving environment so the ability to stay calm under pressure is essential.
Who are you?
You will need to be personable and enthusiastic – coupled with clear communication skills and a genuine desire to produce exceptional results. We will need you to interpret client briefs with an inspired, proactive and positive attitude.
You will also need to understand the importance of great customer service, and to wholeheartedly embrace our values in this area to strive for 100% client satisfaction. Working together with the design team, you will consistently exceed client expectations – delivering high quality work on time, every time.
Alongside this you'll also be someone who can effectively take ownership for the management of allocated projects – ensuring the quality of the final product. You will need to take full responsibility for 'owned' projects – whilst liaising with the client to discuss the proposed solution, and to get approval of any work before it goes to the client.
We will also need you to be able to work independently, using a good awareness of the production processes across print and digital environments to be able to question and challenge when necessary – and ensuring all work is 100% accurate with no spelling or typographical errors, no design/layout mistakes and no technical artwork set-up errors.
You will ideally need to hold at least 2-3 years agency/industry experience for this role.
What will you gain?
In return, you'll have the opportunity to develop and hone your talents across a unique range of thought-provoking projects. You'll be working closely with a broad selection of interesting clients – whilst enjoying a varied and fast-paced workload.
Responsibilities
Here's a little more detail about the day-to-day responsibilities involved in this role:
Using your experience and knowledge to identify and resolve print and digital challenges

Working with the senior designer and creative director to ensure the integrity of the original concept

Preparing and editing print ready artwork across a range of media including collateral, adverts, catalogues and exhibition materials

Developing design and artwork projects to a high standard, being responsible for your part of the brief – including:

liaising with the brand and performance teams

requesting advice as necessary

carrying out proof checks or stage development meetings where necessary to ensure the work meets client expectations

always carrying out proof checks before final approval/delivery

Understanding and working within the client's brand and corporate guidelines where relevant

Communicating progress at every stage of the design and artwork process to ensure the smooth running of work

Working systematically to the brief guidelines and ensuring that work is checked by appropriate staff members before releasing to production house, client or other third parties
What you will need to be great at in this role:
Digital knowledge and understanding of how print and digital campaigns overlap

Working as part of a dedicated team delivering print and digital based projects

You will have excellent artworking skills with strong Adobe CS (InDesign, Illustrator and Photoshop)

You will be required to execute multiple amends to a very high standard of accuracy

Good prioritisation and time management skills

Effectively manage workloads within agreed timescales

Able to work on own initiative and equally able to take verbal direction from key stakeholders

Strong typographical knowledge and advantage

Solid understanding of print processes, specifications and profiles

Motivated, resilient, able to work at pace, respond to the constantly evolving requirements of

projects and the tenacity to respond to unexpected challenges and changing priorities

Experience of client liaison

A meticulous eye for detail.

Good grammar and spelling.
Summary of desired skills, experience and personality type
4 years industry/agency experience

Meticulous attention for detail

Fluent in Adobe Creative Suite – Photoshop, Illustrator, InDesign and Acrobat – complemented by a solid knowledge of Microsoft Office software.

Good understanding of all delivered channels across print, brand and digital

Excellent time management, with the ability to juggle multiple briefs and deadlines when required

Excellent communication skills – and presentation skills a definite bonus

Approachable, energetic and friendly with a positive attitude

Calm and positive under pressure

Proactive, orderly and self-motivated

Dedicated and determined
Hours of work:
37.5 hours a week. We are in the process of trialling the adoption of a flexible working practice to benefit both our team, the work environment, our clients and the output of work quality. 
A little bit about us:
We are a Manchester based Brand Performance agency that celebrates its 30th year next year. A core reason we have been successful for so long is our drive to never settle for the same, we strive to improve everyday and our true agile mindset ensures we constantly evolve as an agency. Our passion comes from helping our clients succeed.
We are the brave agency for brave brands… brands which are ready to be challenged, reimagined & reinvigorated. We believe in transparent, flexible and results-focused objectives. We enjoy working with clients that want their brand to be bolder, bigger and stronger.
The rules we play by: 
We encourage bravery. We always want to do better. We create the difference, together. We want to enjoy the journey.
Our mission: 
To unite the very best people, creating a brave agency that delivers meaningful brand experiences by fusing strategy, creativity and technology using a true agile approach.
We are only satisfied when a brand stands out from the crowd, for all the right reasons.
————————————
If you've read the above and would like to be part of the WilsonCooke team, please send your CV along with a covering letter and link to your portfolio. With you application please tell us what you feel you can bring to WilsonCooke and why you think you would be the ideal candidate for this important role within our business.
To apply please send your CV and a cover letter to idliketowork@wilsoncooke.agency