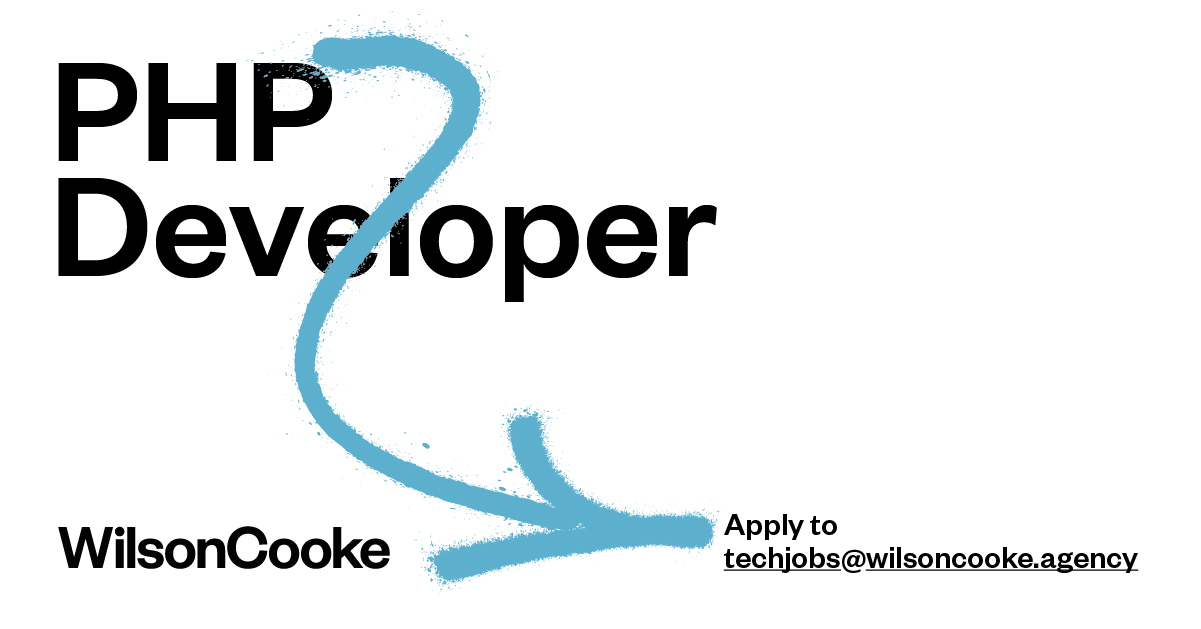 Department: Tech Innovation Division
Location: Remote
Contract type: Full time / Permanent
To apply please send your CV and a cover letter to techjobs@wilsoncooke.agency
About the Role
Our Tech Innovation division is looking for an experienced PHP developer to join the team at an exciting time in our growth. We're looking for someone who can bring the technical skills required to build great solutions for us and our clients, along with the drive to support team development.
At WilsonCooke we put our people at the heart of everything we do. We truly believe that happy people produce better work and we want to support your growth as much as our own.
We're looking for a motivated and ambitious developer who will enjoy working in a fast paced environment, with a drive to match our own in wanting to move the division forward.
About the Company
We are a Manchester based web development agency that celebrates its 30th year this year. A core reason we have been successful for so long is our drive to never settle for the same. We strive to improve everyday and our true agile mindset ensures we constantly evolve as an agency. Our passion comes from helping our clients succeed.
It's a great time to join WilsonCooke, as we are expanding our Tech Innovation division. We have an exciting year ahead as we look to grow our client base and work on our own systems. The successful candidate will play a big part in these developments.
What will you be doing?
The core aspects of your role will include:
Working efficiently with the team and clients to build new systems and solutions that meet requirements, ensuring that quality is at the forefront of everything

Work with our existing client base to help develop new features and support on existing functionality

Contribute towards scopes of work, ensuring that we are developing and delivering the best solution possible

Delivering work against deadlines that you have helped determine

Working alongside the team to ensure that all the correct processes are followed, but also contributing with new ideas and feedback on existing ones
At least 3 years experience in a digital agency

Strong knowledge of PHP, specifically surrounding Laravel framework

Strong knowledge of MySQL

Knowledge of git version control

Ability to demonstrate your problem solving skills by proposing solutions that will work from a technical perspective as well as being commercially viable for our clients

Excellent communication skills which are transferrable both internally and externally

The ability to manage your workload, ensuring that key deadlines are met
It would be great if you have…
Knowledge of accessing and managing servers

Experience of working with WordPress

Experience of working with Zend Framework 2

Knowledge of HTML, JS and CSS and being able to build/fix basic solutions

Experience of working directly with clients and taking requirements

And finally…
Salary circa £30,000 – £40,000 based on experience

We offer a flexible working policy 

Help with your home working setup

Mon – Friday, 37.5 hours a week

Holiday entitlement plus a day off for your birthday

Quarterly Socials

Christmas Break
Head of Tech Innovation
WilsonCooke